July 2, 2021 UPDATE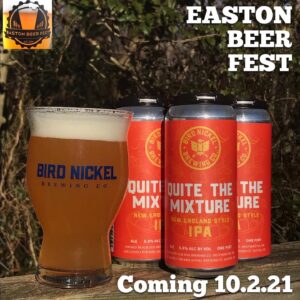 Friends,
We've sold out of our Quite the Mixture NEIPA…thank you so much for your support!
Our flagship beer, Slick Calm, is still available in cans and kegs around the Mid-Shore and in some places on the Western Shore. Look for it on tap at Snifter's and at The Washington Street Pub in Easton.
We're busy finalizing the recipe for our porter, which will be released at the Easton Beer Fest on Saturday October 2nd. We can't wait! Don't forget to get a ticket so you can get a taste of our new creation and sample great beers from other breweries around the state. Look for more news and updates on their Facebook page.
We keep saying this, but we hope to have some good news about having our own space in Easton very soon. There are a lot of things in motion behind the scenes…stay tuned.
Be sure to check this website, our Facebook page and on Instagram for more updates from us. And, check out the Where to Find Us page to see where you can buy our beer in Maryland.
Stay safe and stay tuned, Easton!
CHEERS
-BNB