FEBRUARY 20, 2021 UPDATE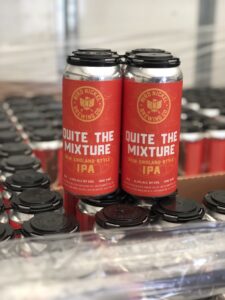 Friends,
Our Quite the Mixture NEIPA is doing quite well out there…thank you so much for the support!
It's a very approachable beer, which means it's not super-hoppy or dank…exactly what a New England-style IPA should be, in our opinion. For all you Hopheads out there- don't worry- we're going to make some hoppy beers when we have our own brewery.
Both Quite the Mixture and Slick Calm are available at most of the locations listed on the Where to Find Us page. Snifter's in Easton has both beers on tap right now and the Washington Street Pub will be putting Quite the Mixture back on tap very soon. A big shout-out to those restaurants for supporting local businesses!
Until next time…
-BNB