May 22, 2021 UPDATE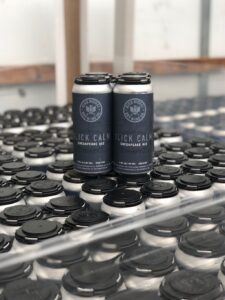 Friends,
Our third batch of Slick Calm is now on the shelves! On May 19th, we once again called on our friends at Pub Dog Brewing and Iron Heart Canning to help us package our flagship beer. It's a great beer for the summer- especially after the year we've all had!
We are back on tap at Snifter's in Easton as well. They've always supported our vision and we love telling everyone about their great food and craft beer selection- the best in Easton!
Look for us to be on tap soon at The Washington Street Pub in Easton sometime before Memorial Day. Our NEIPA, Quite the Mixture, did very well there and we are hoping the patrons will enjoy the Chesapeake Ale, too. Thanks to Tom and Chris for making that happen!
Patience is a virtue. It's definitely needed now more than ever. We are slowly working through some things that will hopefully move us closer to having our own place in Easton. If all goes well, we will be sharing our good news all over social media and shouting it from the rooftops of our sweet little town (well, maybe). Until then, wish us luck and help us keep the dream alive…
Be sure to check this website, our Facebook page and on Instagram for more updates from us. And, check out the Where to Find Us page to see where you can buy our beer in Maryland.
Stay safe and stay tuned, Easton!
CHEERS
-BNB